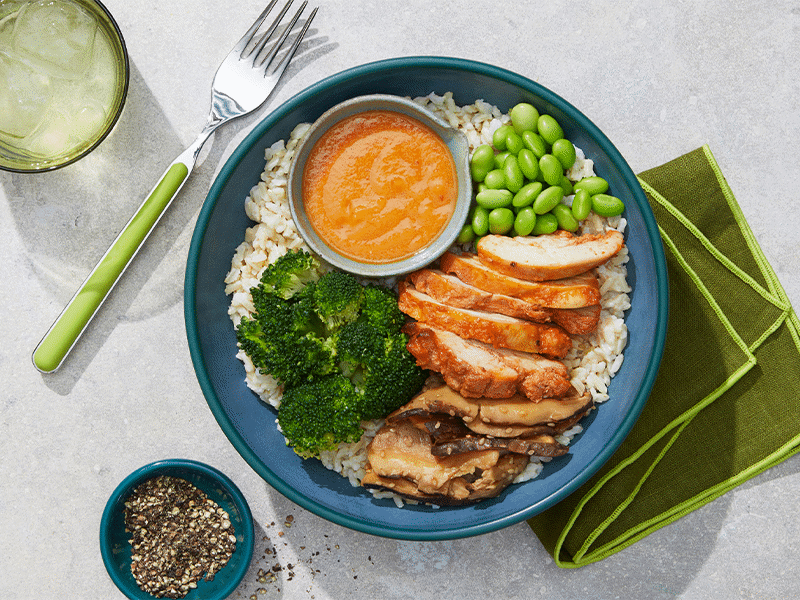 feed your seoul bowl
Highlighting classic Korean flavors and fermented foods, this bowl is good for your gut! With gochujang marinated chicken, pickled shiitake mushrooms, broccoli and edamame, plus a kimchi sauce on the side.
Nutrition Facts
(%) - percentage of daily value
Serving size
11.1oz (315g)
1 serving per container
Per Serving
Total carbohydrate
46g
(17%)
Includes added sugars
5g
(10%)
All Ingredients
Contains: Sesame, Soy
Chicken Thighs, Water, Broccoli, Brown Rice, Edamame Soybeans, Soybean Oil, Olive Pomace Oil, Kimchi (Napa Cabbage, Radish, Tapioca Syrup, Green Onions, Garlic, Red Pepper Powder, Onion, Yeast Extract, Ginger, Brown Rice Flour), Rice Vinegar, Tamari Soy Sauce (Water, Soybeans, Salt, and Alcohol (to retain freshness)), Honey, Vegenaise (Expeller-Pressed Canola Oil, Filtered Water, Brown Rice Syrup, Apple Cider Vinegar, Soy Protein, Sea Salt, Mustard Flour, Lemon Juice Concentrate), Ginger, Miso Paste (Water, Soybean, Rice, Salt, Alcohol), Gochujang (Brown Rice, Tapioca Syrup, Water, Salt, Red Pepper Powder, Alcohol, Soybeans, Garlic, Onion), Blended Sesame Oil (Soybean Oil, Sesame Oil), Lime Juice, Dried Shitake Mushrooms, Tomato Paste (Tomatoes), Garlic, Dijon Mustard (Distilled White Vinegar, Mustard Seed, Water, Salt, White Wine, Citric Acid, Tartaric Acid, Fruit Pectin, Sugar, Spices), Lemon Juice, Green Onions, Sesame Seeds, Kimchi Spice Blend ((Dried Chiles, Rice Flour, Salt, Miso Powder (Soybean, Rice, Salt, Aspergillus Oryzae), Garlic Cabbage Extract Powder (Maltodextrin, Sugar, Cabbage Extract, Corn Oil), Sugar, Cellulose, Ginger, Scallions, Sulfiting Agents))
To find out product pricing and availability, check to see if we are in your area.